Multi-disciplined expertise for a balanced ecosystem
When your ecosystem is challenged by technical efficiency and optimal economy, the high sanitary quality of nutrition and feed matter is primordial.
We develop a transversal expertise - based on detailed studies of the ecosystem - integrating nutrition, plant health, and treatment of organic matter. Our objective: to look for a balanced ecosystem (nutrition/health - positive biofilms - making manure a valuable product)
Five types of expertise, one same result :
Bio protection expertise by the laboratory Cobiotex
Implanting positive biofilm maintains a favourable ecosystem for animals and plants (file Biocide AMM N°), prevents costly illnesses, leading to the use of chemical and veterinary products and loss of production, and limits the use of antibiotics.
Calcic nutrition expertise
Decreasing the impact of metabolic and digestive illnesses (acidosis, ketosis, displaced abomasum) by preventing milk fever and subclinical hypocalcemia in dairy cows. Maximising the ability to digest calcium, the availability of phosphorus, the bone growth and defense systems are equally essential to boost growth, the quality of the carcass and egg production.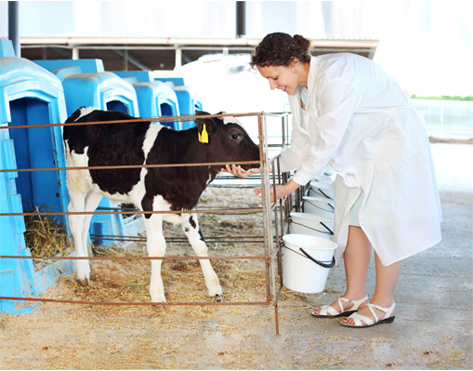 Expertise regarding metabolic stimulation to protect the intestines and enzymatic stimulation
natural active ingredients, joint products of fermentation and butyrate are all activators and protectors of the intestinal cell. They enhance digestive functions as well as reduce any digestive risks. It is a bonus for health security and in reducing food costs.
Bio remediation expertise of Cobiotex laboratory
This technique enables a polluting or non-usable joint product to be preserved and transformed making it functional or marketable. Bio remediation provides added value to a joint product by giving beneficial functions back to it. Bio remediation of livestock manure and pertinent use of it on crops improves the nutritional and sanitary quality of the feed. It represents a powerful lever in nutrition for animal and plant health.
VT4 expertise (plant extracts)
Nature is rich with effective and powerful elements, antioxidants (Quercetine, rosmarinic acid), stimulants of immune functions, expectorants (Eucalyptus), parasitic repellants (Allicine) or even elements with anti-inflammatory qualities (Camomille). Each one is a real tool in preventing illnesses and improving zootechnical performances.